Good morning Friends,
Today starts lots of new things, one of these new things is our very first "Facebook challenge" for "Left of Center Creative challenges!"
We even have a sponsor! Whoo Hoo! Who don't like  a chance at winning some digis?
The sponsor is "SLS Lines" (Follow the link or click their logo.)

Here is my DT card:
I was provide with this digi stamp called "Sad Teddy Bear." (Follow the link to get yours, or click the image.)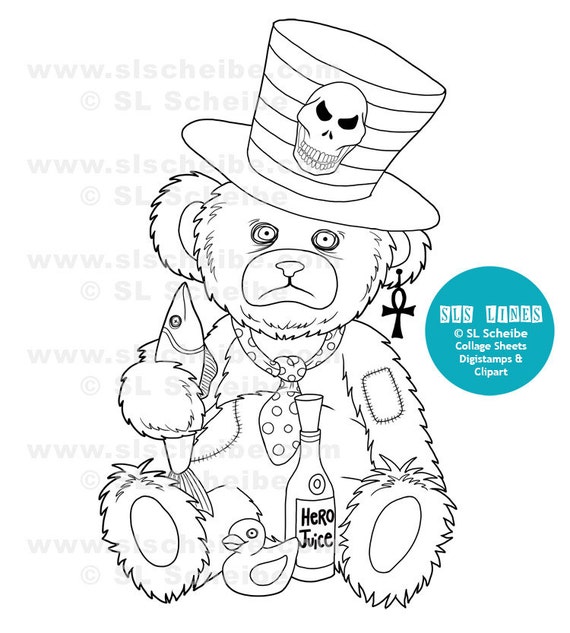 I first colored the digital image with Copics. Then I added some Flocking to him. All flocking powders came from Sparkle N Sprinkle!
On his inner ears, and foot pads I used "Pink Spirit."
For the bear's body I mixed 3 colors of Flocking together.
I used the following:
Amber Wheat
Buff
Dark Chocolate
As you can see I didn't have the right color, it was too dark or too light. So I combined, and I do like how it turned out. And he is soft and fuzzy to the touch. 🙂
Don't you just love that pierced die cut he is on? I used FSJ's Black Licorice card stock with thin die cuts called "Journey Rectangles." "Item #: DI-0041″ It will make the piercing for you. I love it, I can get that look w/o wasting time.
The creepy cool DSP is from "Fun Stampers Journey." It's new and it's called "Zombies Nights." "Item #: PP-0006"
  I also used Black Journey Twine:
For the inside I used SU's Bigz Die "Top Note." This NEW stamp set is from "Fun Stampers Journey" called "Zombies Attack." "Item #: SS-0135"
Thank you for stopping by today and thank you for your comments!
Please visit out sponsor SLS Lines' blog click here!
Here is the link to our Facebook challenge click here!
Don't forget about our challenge blog those challenges are still going on click here!
I would like to enter the following challenge:
Sparkle N Sprinkle Creative Challenges: challenge "October- Anything goes w/ glitter, flocking, etc.." (I used your flocking.)
Stay Crafty my Friends!
Peace,
KristyLee